Python Variable
Variable and Value
A variable is a memory location where a programmer can store a value. Example : roll_no, amount, name etc.
Value is either string, numeric etc. Example : "Sara", 120, 25.36
Variables are created when first assigned.
Variables must be assigned before being referenced.
The value stored in a variable can be accessed or updated later.
No declaration required
The type (string, int, float etc.) of the variable is determined by Python
The interpreter allocates memory on the basis of the data type of a variable.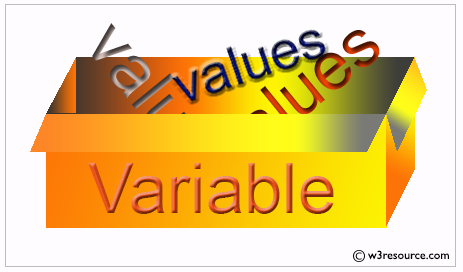 Python Variable Name Rules
Must begin with a letter (a - z, A - B) or underscore (_)
Other characters can be letters, numbers or _
Case Sensitive
Can be any (reasonable) length
There are some reserved words which you cannot use as a variable name because Python uses them for other things.
Good Variable Name
Choose meaningful name instead of short name. roll_no is better than rn.
Maintain the length of a variable name. Roll_no_of_a-student is too long?
Be consistent; roll_no or RollNo
Begin a variable name with an underscore(_) character for a special case.
Python Assignment Statements
The assignment statement creates new variables and gives them values. Basic assignment statement in Python is :
Syntax:
<variable> = <expr>
Where the equal sign (=) is used to assign value (right side) to a variable name (left side). See the following statements :
>>> Item_name = "Computer" #A String
>>> Item_qty = 10 #An Integer
>>> Item_value = 1000.23 #A floating point
>>> print(Item_name)
Computer
>>> print(Item_qty)
10
>>> print(Item_value)
1000.23
>>> 

One thing is important, assignment statement read right to left only.
Example:
a = 12 is correct, but 12 = a does not make sense to Python, which creates a syntax error. Check it in Python Shell.
>>> a = 12
>>> 12 = a
SyntaxError: can't assign to literal
>>> 

Multiple Assignment
The basic assignment statement works for a single variable and a single expression. You can also assign a single value to more than one variables simultaneously.
Syntax:
var1=var2=var3...varn= = <expr>
Example:
x = y = z = 1 
Now check the individual value in Python Shell.
>>> x = y = z = 1
>>> print(x)
1
>>> print(y)
1
>>> print(z)
1
>>> 

Here is an another assignment statement where the variables assign many values at the same time.
Syntax:

<var>, <var>, ..., <var> = <expr>, <expr>, ..., <expr>
Example:
x, y, z = 1, 2, "abcd"
In the above example x, y and z simultaneously get the new values 1, 2 and "abcd".
>>> x,y,z = 1,2,"abcd"
>>> print(x)
1
>>> print(y)
2
>>> print(z)
abcd 

You can reuse variable names by simply assigning a new value to them :
>>> x = 100
>>> print(x)
100
>>> x = "Python"
>>> print(x)
Python
>>>  

Other ways to define value
>>> five_millions = 5_000_000
>>> five_millions

Output:

5000000

>>> small_int = .35
>>> small_int

Output:

0.35

>>> c_thousand = 10e3
>>> c_thousand

Output:

10000.0

Swap variables
Python swap values in a single line and this applies to all objects in python.
Syntax:
var1, var2 = var2, var1
Example:
>>> x = 10
>>> y = 20
>>> print(x)
10
>>> print(y)
20
>>> x, y = y, x
>>> print(x)
20
>>> print(y)
10
>>>
Local and global variables in Python
In Python, variables that are only referenced inside a function are implicitly global. If a variable is assigned a value anywhere within the function's body, it's assumed to be a local unless explicitly declared as global.
Example:

var1 = "Python"
def func1():
    var1 = "PHP"
    print("In side func1() var1 = ",var1)

def func2():
    print("In side func2() var1 = ",var1)
func1()
func2()

Output:

In side func1() var1 =  PHP
In side func2() var1 =  Python

You can use a global variable in other functions by declaring it as global keyword :
Example:

def func1():
    global var1
    var1 = "PHP"
    print("In side func1() var1 = ",var1)

def func2():
    print("In side func2() var1 = ",var1)
func1()
func2()

Output:

In side func1() var1 =  PHP
In side func2() var1 =  PHP

Previous: Python Syntax
Next: Python Data Type
Test your Python skills with w3resource's quiz

---
---
---