Registration Form: Google Form Template
Registration Form
The purpose of this form is to collect basic information such as name and email address of your Website users. You may see this is how the form looks :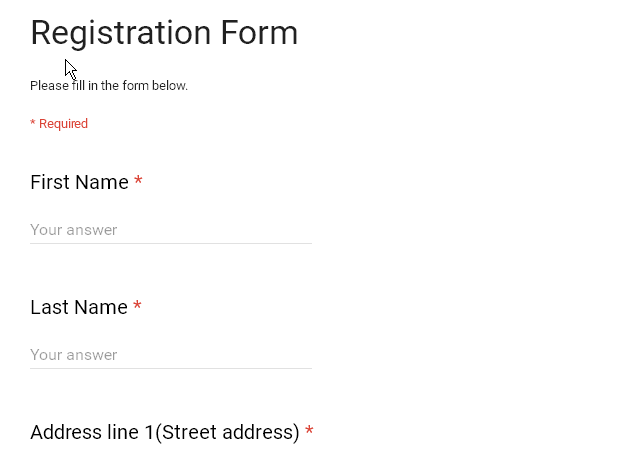 Description of Registration Form
This form has eleven section. First section in this form asks to write your name. Second section asks you to write your last name.
Next section expects Address line 1(Street address). Here you type your address with street address. If necessary, address line 2 may also be used.
Next section expects you to write your city name. This is a required option.
In the next section you are supposed to write your state name or province.
In the 7th section you type your postal or zip code.
Next section eight expects you to supply your country name. This is also a required section.
Next two sections are required, you are expected to write your phone number and e-mail address.
The last section asks for your opinion - Suggestions or topics you would like to be included in the workshop. It is also a required section.
Previous: Forms Template: Google Form Template
Next: Retreat Registration Form: Google Form Template

---
---
---
We are closing our Disqus commenting system for some maintenanace issues. You may write to us at reach[at]yahoo[dot]com or visit us at Facebook