MySQL DAYOFYEAR() function
DAYOFYEAR() function
MySQL DAYOFYEAR() returns day of the year for a date. The return value is within the range of 1 to 366.
This function is useful in -
DAYOFYEAR() is used to categorize, analyze, and visualize data based on the day of the year.
It's valuable for understanding trends or variations that occur on specific days within a year.
For tasks that involve tracking events or patterns that are seasonally significant, DAYOFYEAR() helps identify and analyze those specific days.
DAYOFYEAR() is useful for identifying the position of cyclical events within a year, such as holidays, anniversaries, or natural phenomena.
DAYOFYEAR() aids in financial analysis that considers the timing of events, such as tracking revenue patterns or interest payments.
For calculating durations or intervals within a year, DAYOFYEAR() provides the numeric value representing the day's position.
Syntax:

DAYOFYEAR(date1)

Where date1 is a date.
Syntax Diagram:

MySQL Version: 8.0
Pictorial Presentation: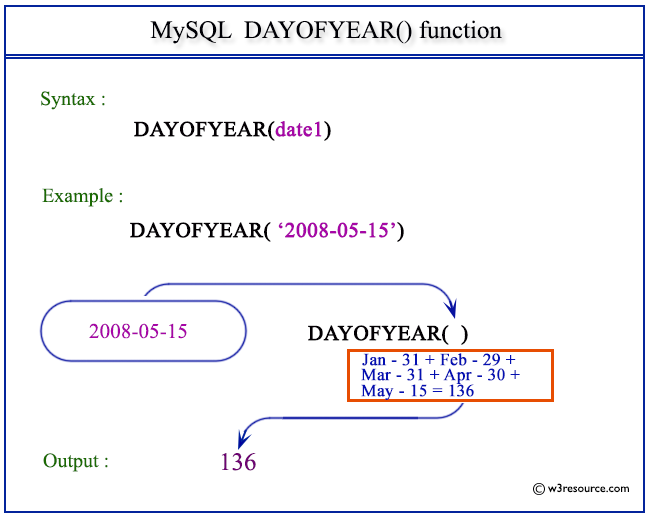 Example: MySQL DAYOFYEAR() function
The following statement will return the day of the year from the given date 2008-05-15.
Code:
SELECT DAYOFYEAR('2008-05-15');


Output:

mysql> SELECT DAYOFYEAR('2008-05-15');
+-------------------------+
| DAYOFYEAR('2008-05-15') |
+-------------------------+
|                     136 | 
+-------------------------+
1 row in set (0.00 sec)

Video Presentation:
All Date and Time Functions:
Click here to see the MySQL Date and time functions.
Previous: DAY OF WEEK()
Next: EXTRACT()

---
---
---
We are closing our Disqus commenting system for some maintenanace issues. You may write to us at reach[at]yahoo[dot]com or visit us at Facebook