MySQL SECOND() function
SECOND() function
MySQL SECOND() returns the second for a time. The return value is in the range of 0 to 59. It provides a way to isolate the second part of a time value, allowing for various time-related calculations and data analysis.
This function is useful in -
SECOND() is valuable for analyzing and categorizing data based on the second component of time.
The function is used in time duration calculations to determine the number of seconds within a time interval.
SECOND() aids in filtering data based on specific seconds, helping to focus on subsets of data.
The function helps in presenting time-based data with a more detailed breakdown, including seconds.
SECOND() can be used to create custom time formats that include the second value.
The function can be used to synchronize events or activities that occur at specific seconds within a minute.
SECOND() supports time series analysis by allowing you to group data based on the second component of time.
Syntax:

SECOND(tm)

Where tm is a time.
Syntax Diagram:

MySQL Version: 8.0
Pictorial Presentation: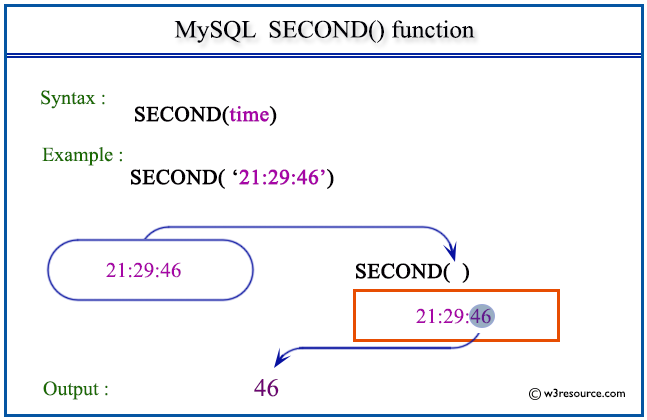 Example: MySQL SECOND() function
The following statement will return the value of second for a given time 21:29:46.
Code:
SELECT SECOND('21:29:46');


Output:

mysql> SELECT SECOND('21:29:46');
+--------------------+
| SECOND('21:29:46') |
+--------------------+
|                 46 | 
+--------------------+
1 row in set (0.00 sec)

Video Presentation:
All Date and Time Functions:
Click here to see the MySQL Date and time functions.
Previous: SEC_TO_TIME()
Next: STR_TO_DATE()

---
---
---