MySQL TIME_TO_SEC() function
TIME_TO_SEC() function
MySQL TIME_TO_SEC() converts a time value in to seconds that have elapsed since midnight. It is a valuable tool for time-based calculations and comparisons.
This function is useful in -
TIME_TO_SEC() is valuable for comparing time values based on their numeric representation, facilitating time-related comparisons.
It can be used to calculate the duration between two time points by subtracting the converted seconds.
TIME_TO_SEC() supports time analysis by providing a common unit of measurement, enabling time-related statistics and trends to be calculated.
It is useful for filtering records or data based on time criteria, such as selecting records within a specific time range.
The function is used in generating time-based reports with time values presented in seconds, which can be useful for data analysis.
The function aids in sorting time values in ascending or descending order based on their numeric representation.
It supports time series analysis by providing a consistent representation of time values for modeling and forecasting.
Syntax:

TIME_TO_SEC(tm)

Where tm is a time.
Syntax Diagram:

MySQL Version: 8.0
Pictorial Presentation: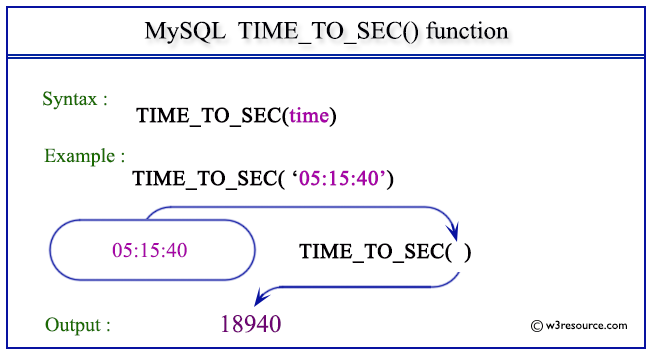 Example:
The following statement will convert the specified time 05:15:40 in seconds.
Code:
SELECT TIME_TO_SEC('05:15:40');


Output:

mysql> SELECT TIME_TO_SEC('05:15:40');
+-------------------------+
| TIME_TO_SEC('05:15:40') |
+-------------------------+
|                   18940 | 
+-------------------------+
1 row in set (0.02 sec)

Video Presentation:
All Date and Time Functions:
Click here to see the MySQL Date and time functions.
Previous: TIME_FORMAT()
Next: TIME()

---
---
---