PHP: chr() function
Description
The chr() function is used to get a single character string from the specified ASCII value.
Version:
(PHP 4 and above)
Syntax:
chr(ascii_code)
Parameter:
Name
Description
Required /
Optional
Type
ascii_code
The specified ascii_code.
Required
Integer
Return values:
A one-character string containing the character specified by ascii _code
Value Type: String.
Pictorial Presentation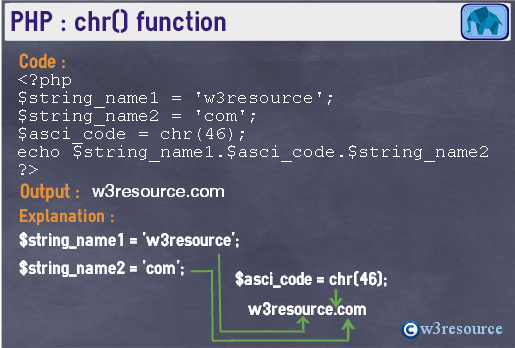 Example:
<?php
$string_name1='w3resource';
$string_name2='com';
$asci_code=chr(46);
echo $string_name1 .$asci_code . $string_name2;
?>

Output:
w3resource.com
View the example in the browser
See also
Previous: chop
Next: chunk_split

---
PHP: Tips of the Day
PHP: Remove first 4 characters of a string with PHP
You could use the substr function to return a substring starting from the 5th character:
$str = "The quick brown fox jumps over the lazy dog."
$str2 = substr($str, 4); // "quick brown fox jumps over the lazy dog."

Ref : https://bit.ly/2LJDLQx
---
New Content published on w3resource:
---
---
---