PHP: strripos() function
Description
The strripos() function is used to find the position of the last occurrence of a case-insensitive string in a string.
Version:
(PHP 5)
Syntax:
strripos(main_string, search_string, start_position) 
Parameters:
Name
Description
Required /
Optional
Type
main_string
Specifies the string to examined.
Required
String
search_string
Specifies the string to search with.
Required
String
start_position
Sets the starting position of the first string.
Optional
Integer
Return value:
Returns the numerical position of the last occurrence of seacrh_string.
Value Type: Integer.
Pictorial Presentation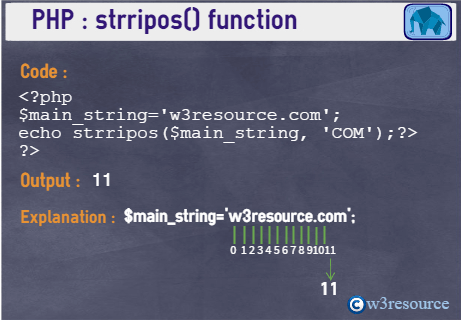 Example:
<?php$main_string='w3resource.com';echo strripos($main_string, 'COM');?>
Output:
11
View the example in the browser
See also

---
PHP: Tips of the Day
Returns the last element in an array
Example:
<?php
function tips_last($items)
{
  return end($items);
}

print(tips_last([1, 2, 3, 4, 5]));

?>

Output:
5

---
New Content published on w3resource:
---
---
---