PHP: str_word_count() function
Description
The str_word_count() function is used to count the number of words in a string.
Version:
(PHP 4 and above)
Syntax:
str_word_count(string_name, nformat, add_chars)
Parameter:
Name
Description
Required /
Optional
Type
string_name
The input string.
Required
String
nformat
Specifies the return value of the str_word_count() function.
Supported values :
0 - returns the number of words found.
1 - returns an array contains all the words found within the specified string.
2 - returns an associative array, where the key is the numeric position of the word inside the string and the value is the actual word itself.
Optional
Integer
add_chars
A list of additional characters which will be considered as 'word'.
Optional
String
Return value:
An array or an integer, depending on the format chosen.
Value Type: Mixed.
*Mixed: Mixed indicates that a parameter may accept multiple (but not necessarily all) types.
Pictorial Presentation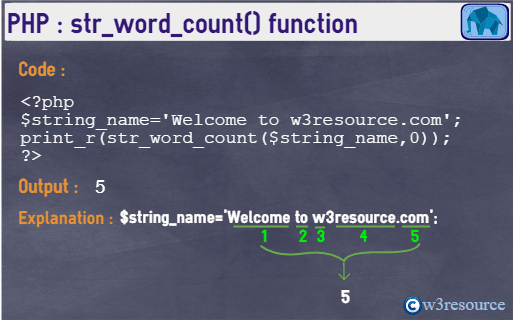 Example:
<?php
$string_name='Welcome to w3resource.com';
print_r(str_word_count($string_name,0));
echo '<br>';
print_r(str_word_count($string_name,1));
echo '<br>';
print_r(str_word_count($string_name,2));
?>

Output :
5

Array  (      [0] => Welcome      [1] => to      [2] => w      [3] => resource      [4] => com  ) 

Array  (      [0] => Welcome      [8] => to      [11] => w      [13] => resource      [22] => com  )
View the example in the browser
See also
Previous: str_split
Next: strcasecmp

---
PHP: Tips of the Day
Returns the last element in an array
Example:
<?php
function tips_last($items)
{
  return end($items);
}

print(tips_last([1, 2, 3, 4, 5]));

?>

Output:
5

---
New Content published on w3resource:
---
---
---