PHP: stripos() function
Description
The stripos() function is used to determine the numeric position of the first occurrence of a string inside another string.
Version:
(PHP 5)
Syntax:
 stripos(main_string, search_string, start_position)
Parameters:
Name
Description
Required /
Optional
Type
main_string
Specifies the string to examined.
Required
String
search_string
Specifies the string to search with.
Required
String
start_position
Sets the starting position of the first string.
Optional
Integer
Return value:
The position.
Value Type: Integer.
Pictorial Presentation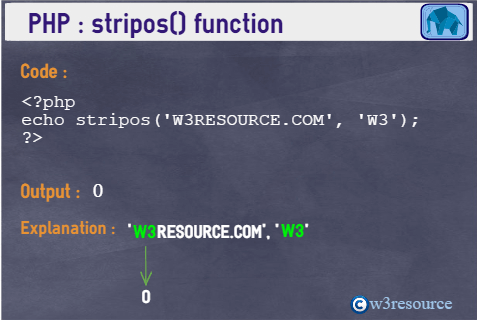 Example:
<?php
echo stripos('W3RESOURCE.COM', 'W3');
?>
Output:
0
View the example in the browser
See also
Previous: stripcslashes
Next: strlen

---
PHP: Tips of the Day
PHP: Where is PHP.ini in Mac OS X Lion? Thought it was in /usr/local/php5/lib
You should find it in /private/etc if it exists, otherwise:
sudo cp /private/etc/php.ini.default /private/etc/php.ini
Ref : https://bit.ly/3nYzEyI
---
New Content published on w3resource:
---
---
---