PHP: number_format() function
Description
The number_format() function is used to format a number (Floating number) with grouped thousands.
Version:
(PHP 4 and above)
Syntax:
number_format(number, decimals, dec_point, thousands_sep) 
Parameter:
Name
Description
Required /
Optional
Type
number
The input number.
Required
Float
decimals
Refer to the number of decimal points.
Optional
Integer
dec_point
Refers the separator of decimal points.
Optional
String
thousands_sep
Refers the thousands separator.
Optional
String
Note: The function accepts one, two, or four parameters (not three).
Return value:
A formatted version of the number.
Value Type: String
Pictorial Presentation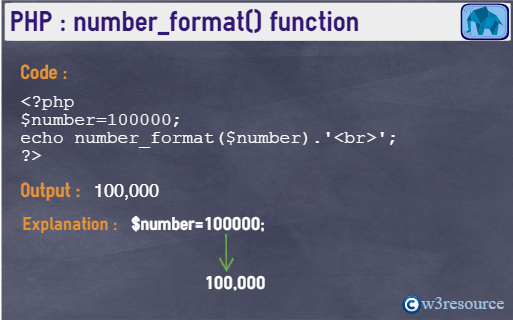 Example:
<?php
$number=100000;
echo number_format($number).'<br>';
echo number_format($number, 2).'<br>';
echo number_format($number, 3).'<br>';
echo number_format($number, 2, ',', '.');
?>
Output:
100,000
100,000.00
100,000.000
100.000,00 
View the example in the browser
See also

PHP: Tips of the Day
echo and print: echo and print are language constructs, not functions. This means that they don't require parentheses around the argument like a function does (although one can always add parentheses around almost any PHP expression and thus echo("test") won't do any harm either). They output the string representation of a variable, constant, or expression. They can't be used to print arrays or objects.
Assign the string Joel to the variable $name
Example:
$name = "Peter";

Output the value of $name using echo & print
<?php
$name = "Peter";
echo $name;
echo "\n";
print $name;
?>

Output:
Peter
Peter

Parentheses are not required, but can be used
<?php
$name = "Owen";
echo($name); 
echo "\n";
print($name);
?>

Output:
Owen
Owen

Using multiple parameters (only echo)
<?php
$name = "Jhon";
echo $name, "Edward";
?> 

Output:
JhonEdward

<?php
$name = "Jhon";
echo $name, " ", "Edward" ;
?>

Output:
Jhon Edward

print, unlike echo, is an expression (it returns 1), and thus can be used in more places:
<?php
print("Hello") && print(" ") && print("World");
?>

Output:
World11

The above is equivalent to:
<?php
print ("Hello" && (print (" " && print "World")));
?>

Output:
World11

---
New Content published on w3resource:
---
---