PHP : stripcslashes() function
Description
The stripcslashes() function is used to remove backslashes added by the addslashes() function.
Version:
(PHP 4 and above)
Syntax:
stripcslashes(string1)
Parameter:
Name
Description
Required /
Optional
Type
string1
The string to be unescaped.
Required
String.
Return value:
The unescaped string.
Value Type: String.
Pictorial Presentation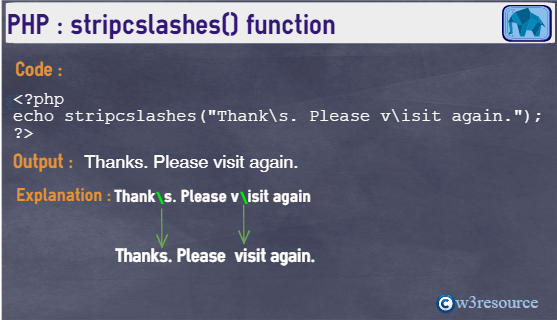 Example:
<?php
echo stripcslashes("Thank\s. Please v\isit again.");
?>
Output:
Thanks. Please visit again.
View the example in the browser
See also
Previous: strip_tags
Next: stripos

---
PHP: Tips of the Day
Returns true if the given number is even, false otherwise
Example:
<?php
function tips_Even($number)
{
  return ($number % 2) === 0;
}

print(tips_Even(8));

?>

Output:
1

---
New Content published on w3resource:
---
---
---