PHP: ucwords() function
Description
The ucwords() function is used to convert the first character of each word in a string to uppercase.
Version:
(PHP 4 and above)
Syntax:
ucwords(string_name)
Parameter:
Name
Description
Required /
Optional
Type
string_name
The

input string

.
Required
String
Return value:
The modified string.
Value Type: String.
Pictorial Presentation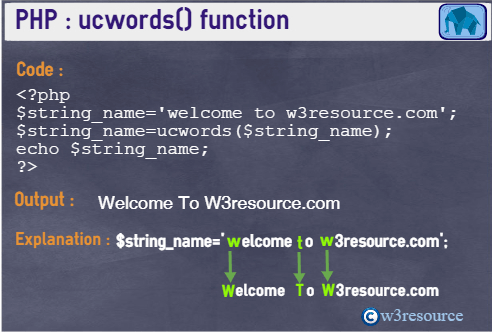 Example:
<?php
$string_name='welcome to w3resource.com';
$string_name=ucwords($string_name);
echo $string_name;
?>

Output :
Welcome To W3resource.com
View the example in the browser
See also

---
PHP: Tips of the Day
Float
Example:
$float = 0.123;

For historical reasons "double" is returned by gettype() in case of a float, and not simply "float"
Floats are floating point numbers, which allow more output precision than plain integers.
Floats and integers can be used together due to PHP's loose casting of variable types:
$sum = 3 + 0.14;
echo $sum;

Output:
3.14

php does not show float as float number like other languages, for example:
$var = 1;
echo ((float) $var);

Output:
1

---
New Content published on w3resource:
---