PHP: convert_uudecode() function
Description
The convert_uudecode() function is used to decode a uuencoded string.
Version:
(PHP 5)
Syntax:
convert_uudecode(string_data)
Parameter:
Name
Description
Required /
Optional
Type
string_data
The uuencoded data.
Required
String
Return values:
The decoded data as a string.
Value Type: String.
Pictorial Presentation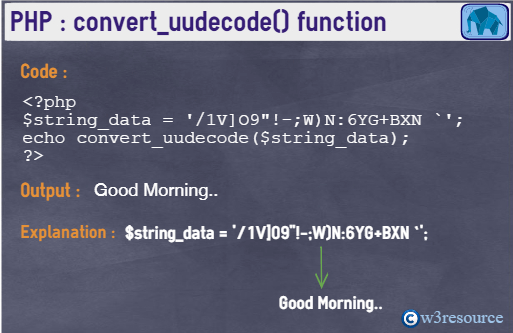 Example:
<?php
$string_data = '/1V]O9"!-;W)N:6YG+BXN `';
echo convert_uuencode($string_data);
?>
Output:
Good Morning...
View the example in the browser
See also
Previous: convert_cyr_string
Next: convert_uuencode

PHP: Tips of the Day
var_export(): var_export() dumps a PHP parseable representation of the item.
You can pass true as the second parameter to return the contents into a variable.
Example:
<?php
$myarray = [ "PHP", "Tips" ];
$mystring = "PHP Tips";
$myint = 28;

var_export($myarray);
var_export($mystring);
var_export($myint);
?>

Output:
array (
  0 => 'PHP',
  1 => 'Tips',
)'PHP Tips'28


To put the content into a variable, you can do this:
$array_export = var_export($myarray, true);
$string_export = var_export($mystring, true);
$int_export = var_export($myint, 1); // any `Truthy` value

After that, you can output it like this:
printf('$myarray = %s; %s', $array_export, PHP_EOL);
printf('$mystring = %s; %s', $string_export, PHP_EOL);
printf('$myint = %s; %s', $int_export, PHP_EOL);

Example:
<?php
$myarray = [ "PHP", "Tips" ];
$mystring = "PHP Tips";
$myint = 28;
$array_export = var_export($myarray, true);
$string_export = var_export($mystring, true);
$int_export = var_export($myint, 1);
printf('$myarray = %s; %s', $array_export, PHP_EOL);
printf('$mystring = %s; %s', $string_export, PHP_EOL);
printf('$myint = %s; %s', $int_export, PHP_EOL);
?>

This will produce the following output:
Output:
$myarray = array (
  0 => 'PHP',
  1 => 'Tips',
);
$mystring = 'PHP Tips';
$myint = 28;


---
---
---
---
We are closing our Disqus commenting system for some maintenanace issues. You may write to us at reach[at]yahoo[dot]com or visit us at Facebook