PHP: sha1_file() function
Description
The sha1_file() function is used to calculate the sha1 hash (Using US Secure Hash Algorithm 1 ) of a file.
Version:
(PHP 4 and above)
Syntax:
sha1_file (file_name, raw_output)
Parameter:
Name
Description
Required /
Optional
Type
file_name
The input file name.
Required
String
raw_output
If TRUE sets raw 20 characters binary format. If FALSE (default) sets raw 40 character hex number format.
Optional
Boolean
Return value:
Returns a string on success, FALSE otherwise.
Value Type: String.
Pictorial Presentation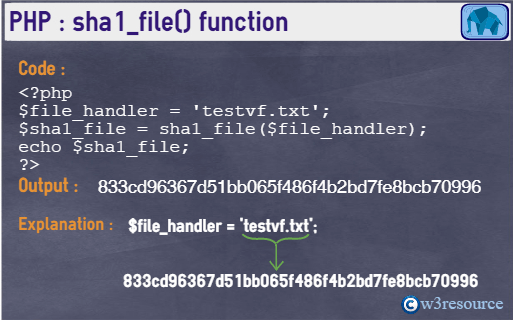 Example:
<?php
$file_handler = 'testvf.txt';
$sha1_file = sha1_file($file_handler);
echo $sha1_file;
?>
Output:
833cd96367d51bb065f486f4b2bd7fe8bcb70996
View the example in the browser
See also

---
PHP: Tips of the Day
Float
Example:
$float = 0.123;

For historical reasons "double" is returned by gettype() in case of a float, and not simply "float"
Floats are floating point numbers, which allow more output precision than plain integers.
Floats and integers can be used together due to PHP's loose casting of variable types:
$sum = 3 + 0.14;
echo $sum;

Output:
3.14

php does not show float as float number like other languages, for example:
$var = 1;
echo ((float) $var);

Output:
1

---
New Content published on w3resource:
---