PHP: nl2br() function
Description
The nl2br() function is used to insert HTML line breaks ('<br />') before all newlines (\n) in a string.
Version:
(PHP 4 and above)
Syntax:
nl2br(input_string)
Parameter:
Name
Description
Required /
Optional
Type
input_string
The input string
Required
String
is_xhtml
Whether XHTML compatible line breaks will be used or not.
Optional
Boolean
Return value:
Returns the altered string.
Value Type: String.
Pictorial Presentation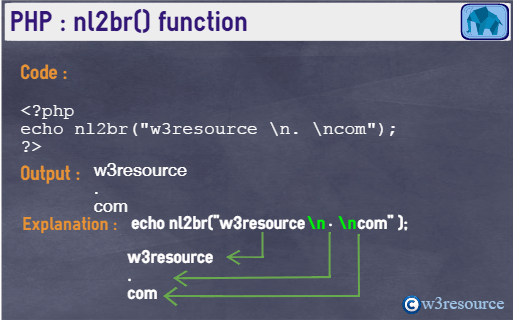 Example:
<?php
echo nl2br("w3resource \n. \ncom");
?>
Output:
w3resource
.
com 
View the example in the browser
See also
Previous: metaphone
Next: number_format

---
PHP: Tips of the Day
Deep flattens an array
Example:
<?php
function tips_deepFlatten($items)
{
  $result = [];
  foreach ($items as $item) {
    if (!is_array($item)) {
      $result[] = $item;
    } else {
      array_push($result, ...tips_deepFlatten($item));
    }
  }

  return $result;
}

Print_r(tips_deepFlatten([1, [2], [[3], 4], 5]));
?>

Output:
Array
(
    [0] => 1
    [1] => 2
    [2] => 3
    [3] => 4
    [4] => 5
)

---
New Content published on w3resource:
---
---
---