PHP: strip_tags() function
Description
The strip_tags() function is used to strip a string from HTML, XML, and PHP tags.
Version:
(PHP 4 and above)
Syntax:
string strip_tags(input_string, allowable_tags)
Parameters:
Name
Description
Required /
Optional
Type
input_string
The input string.
Required
String
allowable_tags
Specified tags which will not be removed.
Optional
String
Return value:
Returns the stripped string.
Value Type: string.
Pictorial Presentation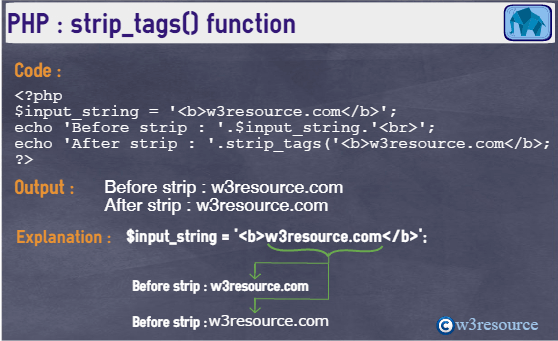 Example:
<?php
$input_string = '<b>w3resource.com</b>';
echo 'Before strip : '.$input_string.'<br>';
echo 'After strip : '.strip_tags('<b>w3resource.com</b>');
?>
Output:
Before strip: w3resource.com
After strip : w3resource.com
View the example in the browser
See also
Previous: strcspn
Next: stripcslashes

---
PHP: Tips of the Day
Returns the last element in an array
Example:
<?php
function tips_last($items)
{
  return end($items);
}

print(tips_last([1, 2, 3, 4, 5]));

?>

Output:
5

---
New Content published on w3resource:
---
---
---