▼NumPy Array manipulation routines
▼Basic operations
▼Changing array shape
▼Transpose-like operations
▼Changing number of dimensions
▼Changing kind of array
▼Joining arrays
▼Splitting arrays
▼Tiling arrays
▼Adding and removing elements
▼Rearrangeing elements
NumPy Array manipulation: asscalar() function
numpy.asscalar() function
The asscalar() function is used to convert an array of size 1 to its scalar equivalent.
Syntax:
numpy.asscalar(a)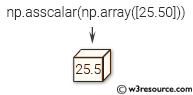 Version: 1.15.0
Parameter:
Name
Description
Required /
Optional
a
Input array of size 1.
Required
Return value:
out : scalar - Scalar representation of a. The output data type is the same type returned by the input's item method.
Example: numpy.asscalar using a parameter
>>> import numpy as np
>>> np.asscalar(np.array([48]))
48

Pictorial Presentation: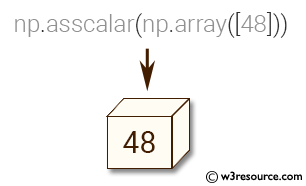 Python - NumPy Code Editor:

Previous: asarray_chkfinite()
Next: require()

---
New Content published on w3resource:
---