▼NumPy Array manipulation routines
▼Basic operations
▼Changing array shape
▼Transpose-like operations
▼Changing number of dimensions
▼Changing kind of array
▼Joining arrays
▼Splitting arrays
▼Tiling arrays
▼Adding and removing elements
▼Rearrangeing elements
NumPy Array manipulation: broadcast() function
numpy.broadcast() function
The broadcast() function produces an object that mimics broadcasting.
Syntax:
class numpy.broadcast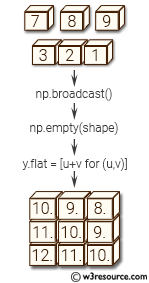 Version: 1.15.0
Parameter:
Name
Description
Required /
Optional
in1, in2, . . .
Input parameters.
Required
Return value:
b [broadcast object] Broadcast the input parameters against one another, and return an object that encapsulates the result. Amongst others, it has shape and nd properties, and may be used as an iterator.
Example-1: numpy.broadcast()
>>> import numpy as np
>>> a = np.array([[2], [3], [4]])
>>> b = np.array([5, 6, 7])
>>> z = np.broadcast(a, b)
>>> y = np.empty(z.shape)
>>> y.flat = [u+v for (u,v) in z]
>>> y
array([[  7.,   8.,   9.],
       [  8.,   9.,  10.],
       [  9.,  10.,  11.]])

Example-2: numpy.broadcast()
>>> import numpy as np
>>> a = np.array([[2], [3], [4]])
>>> b = np.array([5, 6, 7])
>>> a+b
array([[ 7,  8,  9],
       [ 8,  9, 10],
       [ 9, 10, 11]])

Pictorial Presentation: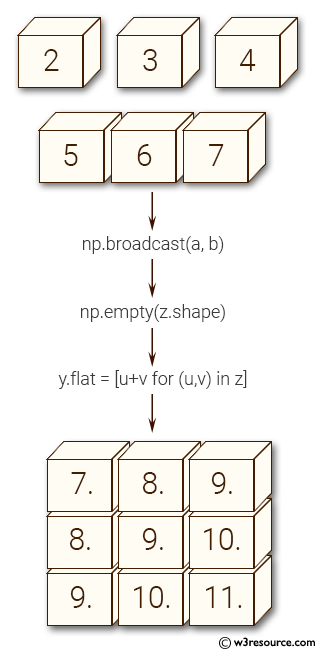 Python - NumPy Code Editor:

Previous: atleast_3d()
Next: broadcast_to()

---
New Content published on w3resource:
---
---
---