▼NumPy Array manipulation routines
▼Basic operations
▼Changing array shape
▼Transpose-like operations
▼Changing number of dimensions
▼Changing kind of array
▼Joining arrays
▼Splitting arrays
▼Tiling arrays
▼Adding and removing elements
▼Rearrangeing elements
NumPy Array manipulation: rot90() function
numpy.rot90() function
The rot90() function is used to rotate an array by 90 degrees in the plane specified by axes.
Rotation direction is from the first towards the second axis.
Syntax:
numpy.rot90(m, k=1, axes=(0, 1))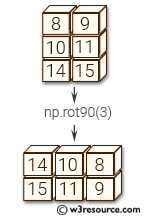 Version: 1.15.0
Parameter:
Name
Description
Required /
Optional
m
Array of two or more dimensions.
Required
k
Number of times the array is rotated by 90 degrees.
Required
axes
The array is rotated in the plane defined by the axes. Axes must be different.
Required
Return value:
y : ndarray - A rotated view of m.
Example-1: numpy.rot90() function
>>> import numpy as np
>>> m = np.array([[1,2], [3,4], [5,6]], int)
>>> m
array([[1, 2],
       [3, 4],
       [5, 6]])	   
>>> np.rot90(m)
array([[2, 4, 6],
       [1, 3, 5]])

Pictorial Presentation: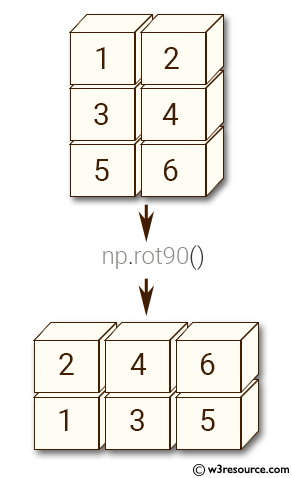 Example-2: numpy.rot90() function
>>> import numpy as np
>>> m = np.array([[1,2], [3,4], [5,6]], int)
>>> np.rot90(m, 3)
array([[5, 3, 1],
       [6, 4, 2]])

Pictorial Presentation: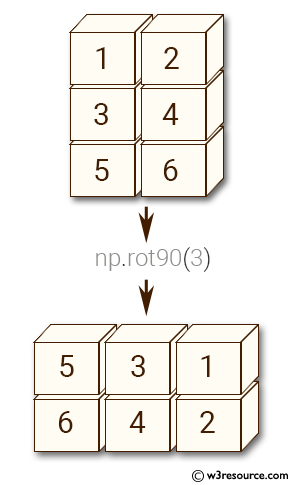 Python - NumPy Code Editor:

Previous: roll()
Next: NumPy Binary operation Home

---
New Content published on w3resource:
---